Born in Germany in the middle of the 1800's, Ney got her first commissions in her early 20's. A lovely strawberry blond, she sculpted the great and famous of Europe. Was (possibly) romantically linked to the Rock Stars of the day. She fell in love with and married Duncan Montgomery, a handsome Scot who was making a name for himself as a medical researcher and gentleman philosopher. He published in many of Europe's journals for great thinkers. They moved to Spain, and eventually to Texas. Ney and Montgomery happily lived on a plantation in East Texas for 20 years.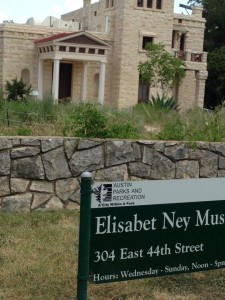 And then, in her 60's, she started working again. She had "Formosa" built in 1892. This studio, on the edge of what was Austin, was her work place, her home-away-from-home, and a vortex for the cream of society at the turn of the century. She wore "bloomers" in public, supported women's rights, and refused to sleep on a bed. Her cot is on display in this museum, she frequently took it outside and slept under the stars. Rumor has it that she often slept naked on the roof of her studio.
Mae West would have loved her!
My father brought me to this museum when I was a little girl. I'll never forget how important it was – to Papa – that I know about the independent spirit of this brilliant artist. My father was in his 40's when I was born and in bad health most of his remaining years. He couldn't give us material things. But he made damn sure he gave us tools to build our own world……and fine, bold examples to be our guides.
I'm going to write about Elixabet Ney. I'll study her and write about her life, over time, any way that I can.
And I think I'll make up a few things about this amazing woman, too! A little historical fiction…why not? Mae West wrote a play about Catherine the Great of Russia. She made no excuses for taking a few liberties with the details of the life of an empress. I might follow her lead. Mae West is my life guide. Elisabet Ney is inspiring.
Today's visit to her museum was like a shot of adrenalin! Thank you, Papa.